Cliché Mold
What is Cliché Mold?
Cliche'Mold is a product that implements a pattern using a step of glass instead of Cr, and Cliche'Mold is a product that transfers pattern to a blanket of a roll printing machine that does not print directly on the product. Refers to a printing plate used for offset printing (flatbed printing), which is a method of printing on a product after it has been transferred.
Exposure Type Printing & Roll Type Printing Process Difference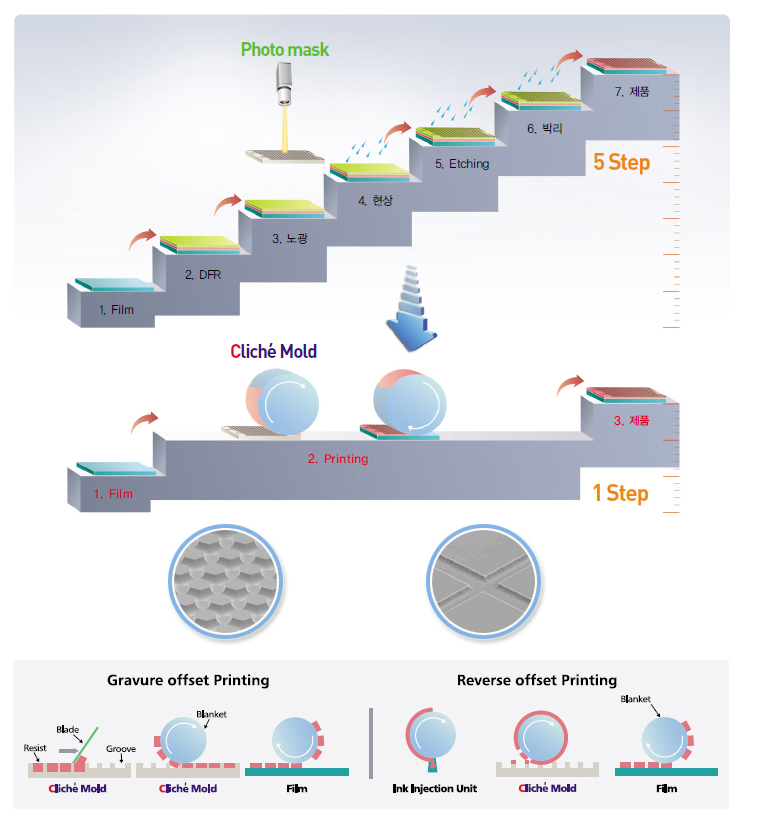 Advantages of Roll Type Printing Process
Low cost mass production
Simplification of manufacturing process such as reduction of process number Roll-to-Roll process technology enables ultra-low-volume production
Diversity of applications
Applicable to various fields such as semiconductors, displays, electronic components, solar cell biochips due to flexible plastic base and variety of materials
Small business led
The initial investment cost is significantly lower than the existing semiconductor process, such as not using vacuum deposition equipment or clean room facility, so it is easy to introduce in small and medium enterprises
Eco-friendly, high efficiency
By forming material at desired position through industrial printing machine, material loss is small, waste is small, environment friendly and production efficiency is very high
Imprint Mold?
Mold products replicated using Mother Mold (Cliché , Litho Mask)
Have production facilities of Roll To Plate & Roll To Roll Imprint